Bar & Bat Mitzvahs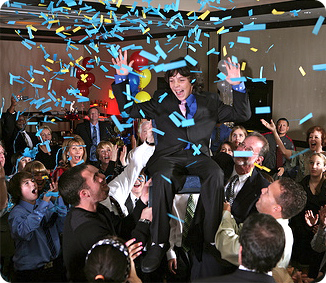 Mazel Tov on your upcoming Bar/Bat Mitzvah! Your son or daughter just completed a major step in life. Now it is time to throw them the party they have always dreamed of! We understand how special this day is, and that's why we created an unbeatable Bar/Bat Mitzvah team. To guarantee your Bar/Bat Mitzvahs success, DJ & Dance Stylez Entertainment has incredible DJ's, MC's, dancers, breakdancers, and musicians for all your entertainment needs serving NYC, NJ, Brooklyn, Westchester County NY, Long Island, Philadelphia, PA, & Connecticut. To ensure your Bar/Bat mitzvah is amazing from beginning to end, we offer unlimited consultations and event planning tips.
There is nothing that compares to a Dance Stylez Entertainment Bar / Bat Mitzvah experience! Call and see for yourself: (201) 390-8658
Make your party stand out from the rest with our unique party enhancements.
We specialize in Bar Mitzvahs and Bat Mitzvahs in New Jersey, New York, Philadelphia, and Connecticut. Many of our events are Bar Mitzvahs or Bat Mitzvahs in NJ and Bar Mitzvahs in New York or Bat Mitzvahs throughout NY and NYC.
"Everything was perfect! The dancers, MCs, DJs, lights, and break dance show was amazing. Colt told me that he had one of the best Bar Mitzvahs ever! Thank you for making him the star of the party!"
Jill Kucker
"Ariel's Bat Mitzvah was a huge hit! From the kids to the adults everyone was dancing and having a great time. DJ Steve did an excellent job mixing the best music to get everyone celebrating!"
Jeremy & Abby